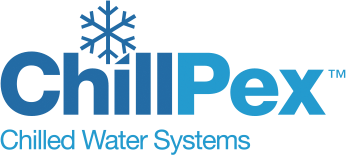 The ChillPex multilayered piping system is a five layered macro-composite construction and is the latest innovation for water applications.
The inside layer is made of cross-linked polyethylene (PEX), this is bonded to an overlapped welded aluminium layer which in turn is bonded to an outside cross-linked polyethylene PEX layer. The middle layer is 100% oxygen tight and all layers are extruded in one step. This structure provides the pipe with the advantages of metal and plastic while avoiding their weaknesses, and brings the following benefits to plumbing –
> it is lower in cost when compared to conventional copper and gal systems;
> it is lightweight, bendable and does not need to be welded;
> installation times are significantly reduced, saving labour costs;
> the product is suitable for transporting chilled water;
> the product is hygienic, non toxic and has good flow rates;
> maintenance costs are much lower than metal systems.
The ChillPex system is a cost effective piping solution for a wide range of plumbing needs.
This piping system is available in prelagged or unlagged formats.
The system is available from a wide range of Plumbing Merchants throughout Australia.
Be in the know with Couta Group.
JOIN OUR ENEWSLETTER TODAY!