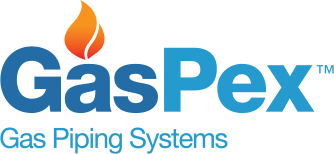 The Gas Pex Piping system brings the latest in innovation to low pressure gas applications.
Gas Pex pipe is a macro composite pipe of five layers. The inside layer is made of cross-linked polyethylene (PEX), overlapped welded by an aluminium layer, then covered by the outside cross-linked polyethylene PEX layer. Between the aluminium layers are the bonding adhesive layers. All layers are extruded in one step.
The product has been independently tested to demonstrate that it meets the requirements of AS 4176 Polyethylene/aluminium and cross-linked polyethylene/aluminium macro composite pipe systems for pressure applications. In addition our manufacturing facilities have been independently audited by SAI Global and have been certified as conforming to ISO 9001.
Designed to last, and last.
The Gas Pex system brings many benefits to plumbing. It has the advantage that the product and fittings are lower in cost when compared to similar copper tubing systems.
This saves both the plumber and consumer money! The product is light weight, bendable and does not need to be welded. A crimp fitting system is used to make the installation task easy.
Installation times are significantly reduced in comparison to traditional copper systems saving labour on each and every job. This increases productivity and further reduces the costs of installation.
The Couta Group Pty Ltd offers a 25 year warranty on the Gas Pex system and is backed by a products and public liability insurance policy to the value of AUD $20,000,000.
Install Videos
INSTALLATION GUIDE
GasPex Piping with F5 Fitting System
INSTALLATION GUIDE
Rems Battery Tool
GasPex Pipe with F5 Fitting System
Be in the know with Couta Group.
JOIN OUR ENEWSLETTER TODAY!